In 2016 the Department for Transport launched the On-Street Residential Chargepoint Scheme, offering funding for local authorities to buy and install electric car charge points. However, the take-up more than 1½ years later has been extremely disappointing. Without overnight charging people up and down the country are being denied the opportunity to take advantage of electric vehicles. The scheme makes available up to 75% of the cost of procuring and installing chargepoints to councils. Local authorities are expected to fund the remaining costs through public and private sources. The On-Street Residential Chargepoint Scheme document is available here: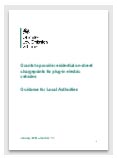 From time to time we publish leaflets and guidance notes which you can access by selecting the thumbnails below:
Transport Minister, Jesse Norman commented:
We are in the early stages of an electric revolution in the UK transport sector, and connectivity is at its heart. Millions of homes in the UK do not have off-street parking, so this funding is important to help local councils ensure that all their residents can take advantage of this revolution.
Charge points can be anything from new points popping up on streets to adapting existing lampposts to make the best use of space. The money has been available since 2016 but so far only 5 councils have come forward, so there is £4.5 million still available for them – enough for thousands of extra points.
Around a third of homes in England do not have off-street parking, making it extremely difficult to charge an electric vehicle overnight. As a result, on-street charge points like those being offered through this scheme have the potential to encourage drivers to switch to electric.
The number of electric vehicles bought in the UK was up nearly 30% last year, and having committed to ending the sale of new conventional petrol and diesel cars and vans by 2040, government is also making sure we have the right infrastructure in place to support drivers.
A set of schemes for electric vehicles was announced in the Autumn Budget in November 2017 which included a further £100 million to help consumers purchasing electric vehicles. Following that the government announced on 12th January 2018 also the extension of the 2017 grant rates for both the Electric Vehicle Homecharge Scheme, and the Plug-in Car Grant which provides up to £4,500 to help motorists make the switch to electric.
Product Brochure Downloads
Now is the time to act on this initiative so to discuss installation with us in more detail please call us on: 0203 291 2821